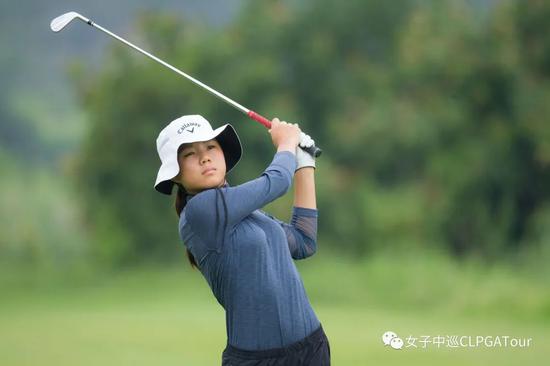 How long can you stick to a goal?
您可以坚持目标多长时间?
   How long did it take you to let your dream shine into reality?
让您的梦想变成现实需要多长时间?
   Lu Yuwen, who is about to enter Stanford in 2021, gave the answer.
即将于2021年进入斯坦福大学的卢玉文给出了答案。
   From the age of 12 to 17, she finally realized her dream.
从12岁到17岁,她终于实现了自己的梦想。
   This post-00 girl from Shanghai started to touch golf under the leadership of her father at the age of 2 and a half. So far, her life has been intertwined with golf for nearly 15 years.
这位来自上海的00后女孩在2岁半的父亲的带领下开始接触高尔夫。迄今为止,她的生活已经与高尔夫交织在一起近15年了。
   After two years of formal learning, Lu Yuwen, who was 8 years old in 2011, began to "show" in the domestic arena. That year, she participated in various events and won five championships including the HSBC National Junior Golf Championship and the National Junior Golf Championship, which made everyone see her strength and talent.
经过两年的正式学习,2011年才8岁的卢玉文开始在国内舞台上"露面"。那年,她参加了各种赛事,并赢得了五项冠军,包括汇丰全国青少年高尔夫锦标赛和全国青少年高尔夫锦标赛,这使每个人都看到了她的实力和才华。
   But what impressed her most was the championship she won in the "7th USKG Junior Golf Championship in Guangdong Province". Not only because of the tortuous experience of defeating several strong players at the age of 8 years old, but also because that was the first golf championship she won. "It can be said that my future golf story starts with this champion." Lu Yuwen said.
但是,最令她印象深刻的是她在"第七届广东省青年高尔夫锦标赛"中获得的冠军。不仅因为在八岁时击败几名强者的曲折经历,还因为那是她赢得的第一个高尔夫冠军。 "可以说,我未来的高尔夫故事就是从这个冠军开始的。"陆玉文说。
   After the age of 12, Lu Yuwen's playing field gradually expanded and began to participate in the USKG and AJGA series of youth competitions, and thus came into contact with American golf culture.
12岁以后,卢玉文的运动场逐渐扩大,并开始参加USKG和AJGA系列的青年比赛,从而与美国高尔夫文化产生了联系。
   When Xiao Yuwen was just 12 years old, the first AJGA All-star to compete in the United States won the championship in the 12-15 year-old category in one fell swoop (AJGA requires players to be at least 12 years old). Recalling this inspiring victory, Lu Yuwen humbly said: "I am very proud of myself that I can win the championship against my sisters who are three or four years older than me! However, at the time, my ability to withstand pressure was a bit poor and I was second in the final round. The momentum was very strong to catch up with a lot of shots. If I knew that the situation was very easy to collapse at the end, there would be no such champion."
肖雨雯只有12岁的时候,第一位在美国比赛的AJGA全明星就一举获得了12-15岁组的冠军(AJGA要求球员必须年满12岁)。卢玉文在回顾这一激动人心的胜利时谦虚地说:"我为自己能与比我大三或四岁的姐妹们赢得冠军而感到骄傲!但是,当时我的承受压力能力很差,我在最后一轮中排名第二。赶上很多镜头的势头非常强劲。如果我知道局势最终很容易崩溃,就不会有这样的冠军。"
   Infiltrated by the golf culture on and off the American stadium, Lu Yuwen has become more and more determined about her future development direction. "When I decided to take the course of the University of Golf Team, I sent more than 50 emails to some target schools. But I only received replies from a few universities." Lu Yuwen recalled. However, the sport that accompanied her since childhood did not teach her to give up, but instead made her more frustrated.
陆羽雯对美国体育场内外高尔夫文化的渗透,对她未来的发展方向越来越坚定。 "当我决定参加高尔夫大学课程时,我向一些目标学校发送了50多封电子邮件。但我只收到了几所大学的答复。"卢玉文回忆。但是,从小就伴随着她的这项运动并没有教会她放弃,反而使她更加沮丧。
   At the same time, Lu Yuwen also compiled a report on her academic performance and golf performance and sent it to the coach regularly. After seeing her excellent results, the coaches' impression of her is getting deeper and better.
同时,陆雨雯还编写了一份关于她的学习成绩和高尔夫成绩的报告,并定期发送给教练。在看到她出色的成绩之后,教练们对她的印象越来越深。
   After being "familiar" with the coach of the target college via email, Lu Yuwen cherishes every performance on the court even more. "After winning a few games in the United States, more coaches saw me and started contacting me." Lu Yuwen said.
通过电子邮件与目标大学的教练"熟悉"后,卢玉文更加珍惜球场上的每场表演。 "在美国赢得了几场比赛后,更多的教练看到了我,并开始与我联系。"陆玉文说。
   To be precise, she won the 2018 AJGA Lake merced championship at the age of 15, and the subsequent AJGA Open ACDS Championship runner-up and in U.S. The impressive performance in the Girls series made this Chinese face with courage and determination and ambitious goals seen by more people.
确切地说,她在15岁时赢得了2018年AJGA湖梅赛德斯冠军,随后在美国AJGA Open ACDS冠军赛中获得亚军。在女子系列赛中令人印象深刻的表现使这位中国面孔充满了勇气,决心和雄心勃勃的目标由更多的人。
  The road to Stanford cannot be smooth sailing, even for a girl with a gift for golf. "I was studying in Shanghai American International School in high school, and the coaches I met gave some standards. Not only my football skills, but also my academics need to be more refined. AP courses must reach all A." Lu Yuwen described as "full of pressure". that period of time.
通往斯坦福的道路不可能顺风顺水,即使对于一个拥有高尔夫天赋的女孩而言。 "我在高中的上海美国国际学校学习,我遇到的教练给出了一些标准。不仅我的足球技巧,而且我的学者都需要提高。AP课程必须达亚博全站手机网页版到所有A级。"卢玉文形容为"充满压力"。那段时间。
   In fact, Lu Yuwen's performance in the summer vacation in 2019 was not as eye-catching as before, lacking some of the strong confidence that came from winning key games. "At that time, it can only be described as'stable'. The coach also understood the pressure I was facing and believed that I could continue to improve in the next two years." Lu Yuwen said.
事实上,卢玉文在2019年暑假的表现并不像以前那样引人注目,缺乏赢得关键比赛所带来的一些强烈信心。 "那时,它只能说是'稳定的'。教练也了解我所面临的压力,并相信我可以在未来两年内继续进步。"陆玉文说。
"When I was in the first year of high school, three colleges—Northwestern University, University of Southern California, and Stanford—in the United States expressed their willingness to admit. Because my sister was studying at Northwestern University, I was a little shaken for a while," Lu Yuwen said. But I want to go to Stanford most, so I have been waiting for Stanford's official response."
"当我进入高中一年级时,美国的三所大学-西北大学,南加州大学和斯坦福大学-表示愿意接受。因为我姐姐在西北大学学习,所以我有些震惊。有一阵子,"卢玉文说。但是我最想去斯坦福大学,所以我一直在等待斯坦福大学的官方回应。"
   In July 2020, the effort paid off, Yuwen Lu officially received the admission letter from Stanford University, fulfilling her childhood dream. At the same time, she became the third Chinese golfer to enter Stanford University after Wang Ziyi and Ye Lei, and became an alumnus of Wei Shengmei and Tiger Woods.
到2020年7月,努力取得了回报,陆雨雯正式收到斯坦福大学的录取通知书,实现了她的童年梦想。同时,她成为继王子怡和叶蕾之后的第三位进入斯坦福大学的中国高尔夫球手,并成为魏圣美和老虎伍兹的校友。
   Soon after receiving the admission letter from Stanford, Lu Yuwen was given the opportunity to stand on the women's China Tour, like their alumni Wang Ziyi and Ye Lei, where they exercised and polished their skills.
在收到斯坦福大学的录取通知书后不久,卢玉雯有机会参加女子中国巡回演唱会,像他们的校友王子怡和叶蕾一样,在那里锻炼和提高了自己的技巧。
   In the first stop of the Women's China Tour, the Chinese Professional Women's Challenge at the Hollywood Mansion in Zhuhai Guowei Central Plaza, Lu Yuwen reaped T15 with her outstanding performance and set her best results in the women's professional arena.
在女子中国巡回赛的第一站,即在珠海国威中央广场的好莱坞大厦举行的中国职业女性挑战赛中,卢玉雯凭借出色的表现收获了T15,并在女子职业舞台上取得了最佳成绩。
   "The experience in the professional arena is very rare. You can learn a lot from the seniors. Whether it is the handling of difficult positions or the mentality after a mistake, it is difficult to judge the quality of the last hole from their expressions."
"专业领域的经验非常罕见。您可以从前辈那里学到很多东西。无论是处理困难职位还是犯错后的心态,都很难从他们的表情来判断最后一个洞的质量。 "
When faced with the question of the biggest difference between professional and amateur arena, she gave the answer: "Professional players have better etiquette. They will say cheer before kick-off. Everyone will applaud. Players who come to the tee first will It's a great feeling to ask me if I can play first. I am very yearning for it!"
当面对职业竞技场和业余竞技场之间最大的区别的问题时,她给出了答案:"职业球员的礼节更好。他们会在开球前说加油。所有人都会为之鼓掌。首先进入开球的球员会问我是否可以先打球真是太好了。我对此很向往!"
   Entering Stanford, standing on the professional stage, the dream of childhood is gradually realized with the efforts of Lu Yuwen. This is not only an end point, but also a brand new starting point. There is a bigger stage waiting for her in the future.
进入斯坦福大学,站在专业舞台上,在卢玉文的努力下,童年的梦想逐渐实现。这不仅是终点,而且是一个全新的起点。还有更大的舞台在等着她。
  Text: Women's Chinese Tour; Image source: Women's Chinese Tour and provided by Lu Yuwen
文字:中国女子巡回赛;图片来源:卢宇文提供的中国妇女巡回赛